Highly Rated Responsive Website Design Company based in Mumbai, INDIA
Perfect Websites for
Mobile
Tablet
Laptop
Desktop
Our approach to Website Designing
We are professional website designers based in Mumbai who have worked on numerous websites since our companies inception in 2011. We understand the need for  well-developed responsive website, for us a website is a whole lot more than merely a corporate presence on the internet. Practically a website acts as a two-way communication tool to reach out to target audiences that have the potential to become leads for your business. Effective Web design is a fusion of art and functionality using cutting edge technologies. Understanding this constraint, we at ZishTech offers advanced responsive website design services for customers to boost the business.
Our designs are created by keeping in mind the purpose/vision of your business. We can help you revamp your current website to a fresher look by incorporating new standards and business conversion options into your website. Whatever the size of your company or organization, ZishTech is your unique source for your website design & development. As a company engaged with website design, the ZishTech is committed to delivering the leading worldwide standards for exclusive responsive web design service for our clients.
Get in touch with best Responsive Website Designing Company in Mumbai
Take your business or portfolio online with top class web designers in Mumbai.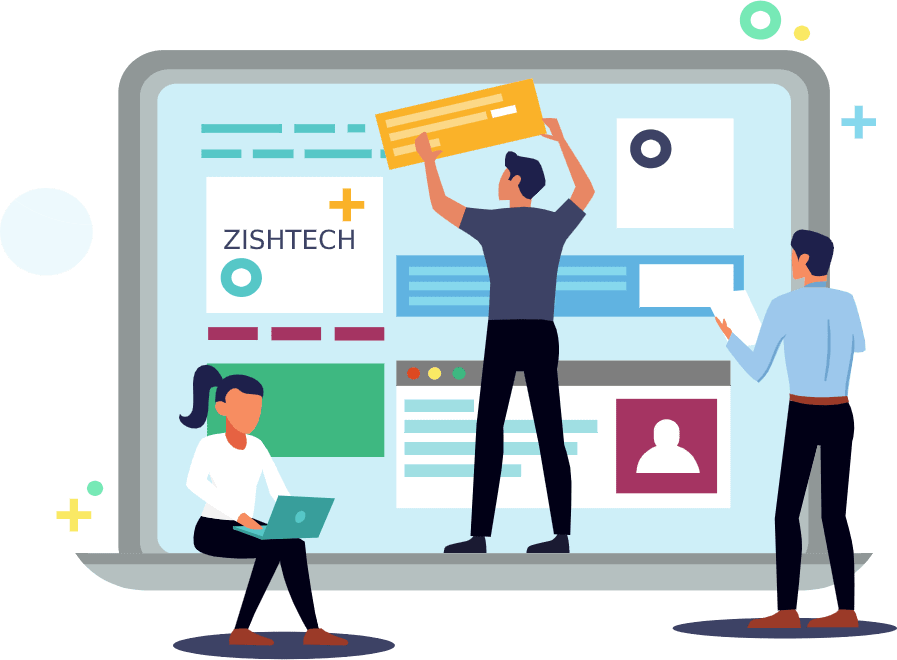 What is Responsive Website Design?
Websites that adjust to any device used by visitors browsing your site to display the content such as text, media, and videos accurately that fits their device resolution without having to create separate pages for each device are called Responsive Websites.
With the evolution of responsive layouts in Website Designing, we no longer see horizontal scroll bars in all top class websites, which used quite common in the 2000s make it a factor for bad user experience.
Why do you need a Responsive website?
Responsive website design eliminates the necessity of zooming in to read website content for mobile users, and this alone is the primary reason to get your website designed to be responsive and mobile-friendly. With 60% of the internet users are now on Mobile, it is mandatory to have a mobile-first approach to your website as recommended by Google in their SEO guidelines.
Highlights of Responsive Website Design Services by ZishTech
Create an excellent first impression on your visitors with Responsive Web Design Services from ZishTech Software Pvt. Ltd. We use a mobile-first approach to design your website. Making it faster, accessible, and user-friendly gives you an instant edge over your competitors since with excellent user experience and optimized for search networks.

Our Experts will make your website a useful marketing tool with our responsive mobile-friendly designs.


Whenever someone visits your website, they expect your website to have content suitably aligned and readable. If your site still has old UI, regularly using zoom/pinch gestures will make visitors lose interest and close the window asap, leaving you at the loss of possible business lead.
Whenever someone leaves your website within seconds because of bad UI search engines will understand that the user had lousy experience and increase bounce rate, which can drop your website ranking in search engines.Having a responsive and mobile friendly website is mandatory to rank on Google.
All sorts of electronic devices can access a well designed, responsive website with ease. Your website information can be seen across Android, iOS, Tablets, Mobiles, or Apple Watch.
That means you gain additional traffic boost since your website is listed on both Google and Google Mobile search engines.
Yes, Google has a separate search index for Mobile and Desktops.
To create a responsive websites, we use PHP 7.4, HTML5 and CSS3 for layouts. Since the introduction of HTML5, we no longer use outdated flash content in sites, meaning we reduce the browser requirements of users automatically. That itself is a massive advantage in retaining users that losing them because they are annoyed by constant popups asking to install adobe flash to view the website.
Smoother & Faster Website
Our responsive sites are made by optimized for all types of devices. The perfect alignment of content, according to the browser, makes it a smooth experience. Since we optimize images and media content to fit the mobile screen, it reduces page load times significantly and boosts page speed.
More Visibility and Increased Sales
Most of the social media content is shared from websites by people using smartphones. Having a Mobile-Friendly website boosts your SEO and gives you an edge over competitors with social signals. You benefit from visibility on the Internet, thus drive more traffic and increase your sales.
Website Design & Redesign Services by ZishTech
CMS is an abbreviation for Content Management System, where we develop websites for clients who want to update their website content frequently without interfering with code and server management.
We create portfolio websites for companies or individuals who want to promote their business online. Highly suitable for startups business. For artists, these websites can be in a stylish one-page responsive website design.
E-commerce aka electronic commerce websites, are made for clients that want to expand their business to domestic and international buyers. We design websites that are simple to use and focus on increasing sales.
Lets get started with our Stunning Responsive Website Design Services
We are in the business of Web Design and Development agency since 2011, and our team of experts uses the Mobile First approach while creating Responsive Websites. We use only the latest and secure technologies to make sure your website runs smoothly and fluidity across various devices.
We believe in helping startups and supporting our clients with web design and digital marketing services to create an online presence and generate business leads.
We can provide all-round small business web design packages that suit your needs at an affordable price.
Our website design packages come along with the following features
Websites must appear correctly, whether the user is viewing from Desktop, Tablet, or Mobile Device. The Websites we design are always responsive and adapt the design according to the visitor's browser.
A business email address is naturally more credible and trustworthy when compared to a regular email address, such as Gmail or outlook. It gives a corporate impression and useful to promote your brand.
We guide you to purchasing a suitable domain according to fit the purpose of your website, keeping the SEO side of things in mind. We provide affordable hosting customized for your website requirements that are managed regularly by our team.
SSL Encryption for Safety
SSL Certificate is used to encrypt data between the visitor's browser and web server to enhance the security to prevent data leakages that can happen when third-party tools like proxy servers are involved. It has a significant impact on Trust value for eCommerce websites.
Frequently Asked Questions
Get in touch with our representative by scheduling an appointment using the contact form for a free quote on Responsive Website Design Services offered by ZishTech.